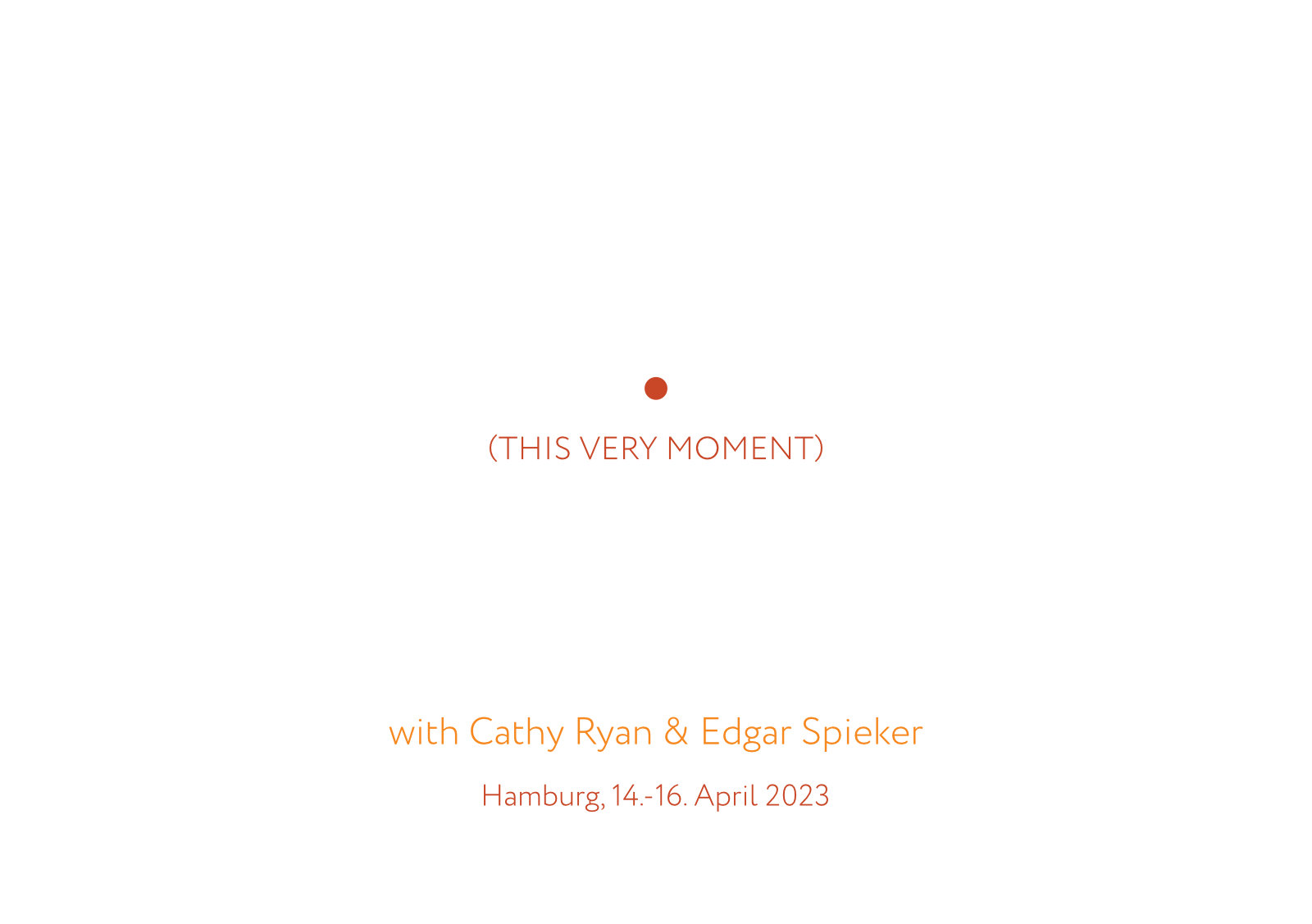 This Very Moment
14. - 16. April 2023 Fr. 20:30-22.00 h, Sa. 11-17 h, Su. 10-16 h
Kyodo Dojo, Mendelssohnstr. 15, 22761 Hamburg, Deutschland
Soul Motion Workshop with Cathy Ryan & Edgar Spieker
What do you hear?
Can you listen?
What do you see?
Can you intuit?
What's behind you?
Can you trust?
Who are you with?

Questions for this very moment.
Questions for our embodied selves to explore in movement and music.
Perhaps the soul in motion, the body moving in the soul space of creativity, intuition and dance will open some whisperings, some glimpses of truth.
Though soundscapes of music and poetry, guided movement scores and movement resources we will invite you over and over into this very moment – a limitless space of possibility.
Edgar and Cathy are delighted to be offering their work together, a merging of Soul Motion and BISO (Body in Soul). Two souls whispering together in the moment – come and join us, you are welcome.

Cathy has been working in embodied movement practice for many years, with a background in theatre, writing and shamanic practice. She is a 5 Rhythms teacher, founding member of Open Floor International and co-founder of BISO, a conscious movement facilitator's training. She works extensively in Europe and further afield, loving this ongoing exploration of how and what it is to be alive in these moving, humans bodies of ours. See www.humans-being.co.uk for more details.
Workshop fee:

Standard Fee: 290 €
Reduced Fee: 260 €
Supporter Fee: 320 €

Note on the pricing structure:

The regular fee is the regular fee for the workshop.
The reduced fee is for dancers that cannot afford the standard rate
The supporter fee is intended for people with greater financial means. By paying a higher rate they support in this way participants with a small budget so that they can pay the reduced rate.
---
Register to the workshop