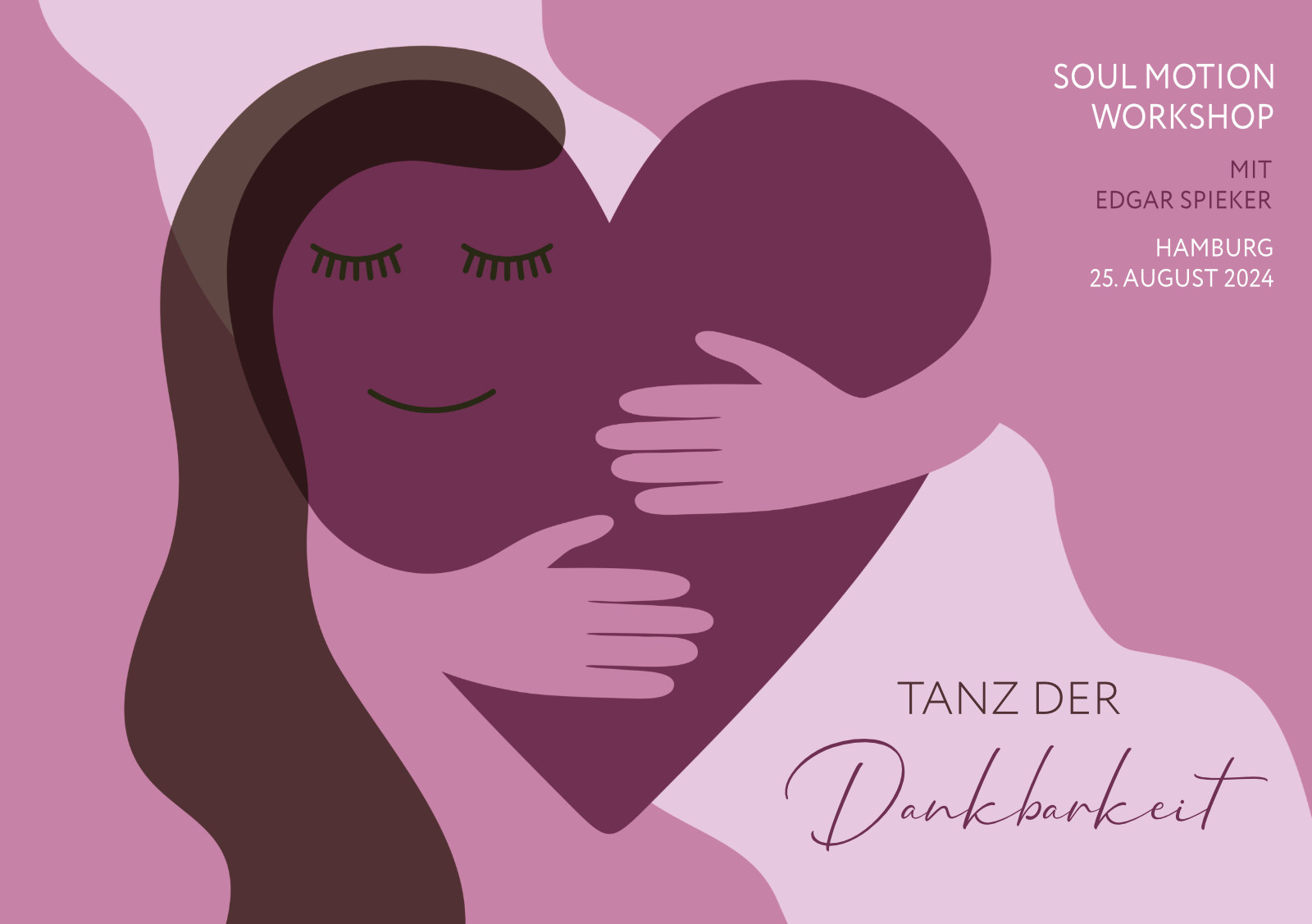 Dance of Gratitude
24. - 25. August 2024 Sa. 11-17 h, Su 10.30-16 h
Kyodo Dojo, Mendelssohnstr. 15, 22761 Hamburg, Deutschland
Soul Motion Workshop with Edgar Spieker
There are so many reasons to be grateful. For the gift of life. For having a body that allows us to see, feel and experience this world. For the people in our lives who are kind to us and support us in our growth and well-being. For the roof over our head and the food in the fridge. And so much more.
It's gratitude that keeps the heart strong
That melts the fear and breaks the spell
It's gratitude that opens the door and shows the way
That answers the questions that worry the mind and close the heart
It's gratitude that has a thousand happy pixies dancing through your garden
Throwing blessings sowing seeds of grace upon your life
Jane O'Shea

Sometimes we lose sight of this. Unimportant things suddenly become outsized. One personal crisis calls our whole life path into question. The grief of one loss pushes like an impenetrable blanket of clouds between us and the light with which we have always been gifted and always will be.

Gratitude is a humble acknowledgement of how much we have been gifted and at the same time a very nurturing attitude towards life. It has the power to lift the clouds and give us courage for the next step in life. It makes us see more clearly what is really meaningful for us and what we really need to grow into our fullness.

On this weekend we dance together in the garden of our life, sow the seeds of our heart and fertilize with gratitude. We follow our impulses of movement, which remind us that dance is not something we have to find, but something we are gifted with.
Workshop fee:

Standard Fee: 220 €
Reduced Fee: 190 €
Supporter Fee: 250 €

Note on the pricing structure:

The regular fee is the regular fee for the workshop.
The reduced fee is for dancers that cannot afford the standard rate
The supporter fee is intended for people with greater financial means. By paying a higher rate they support in this way participants with a small budget so that they can pay the reduced rate.
---
Register to the workshop
Please fill out all the fields