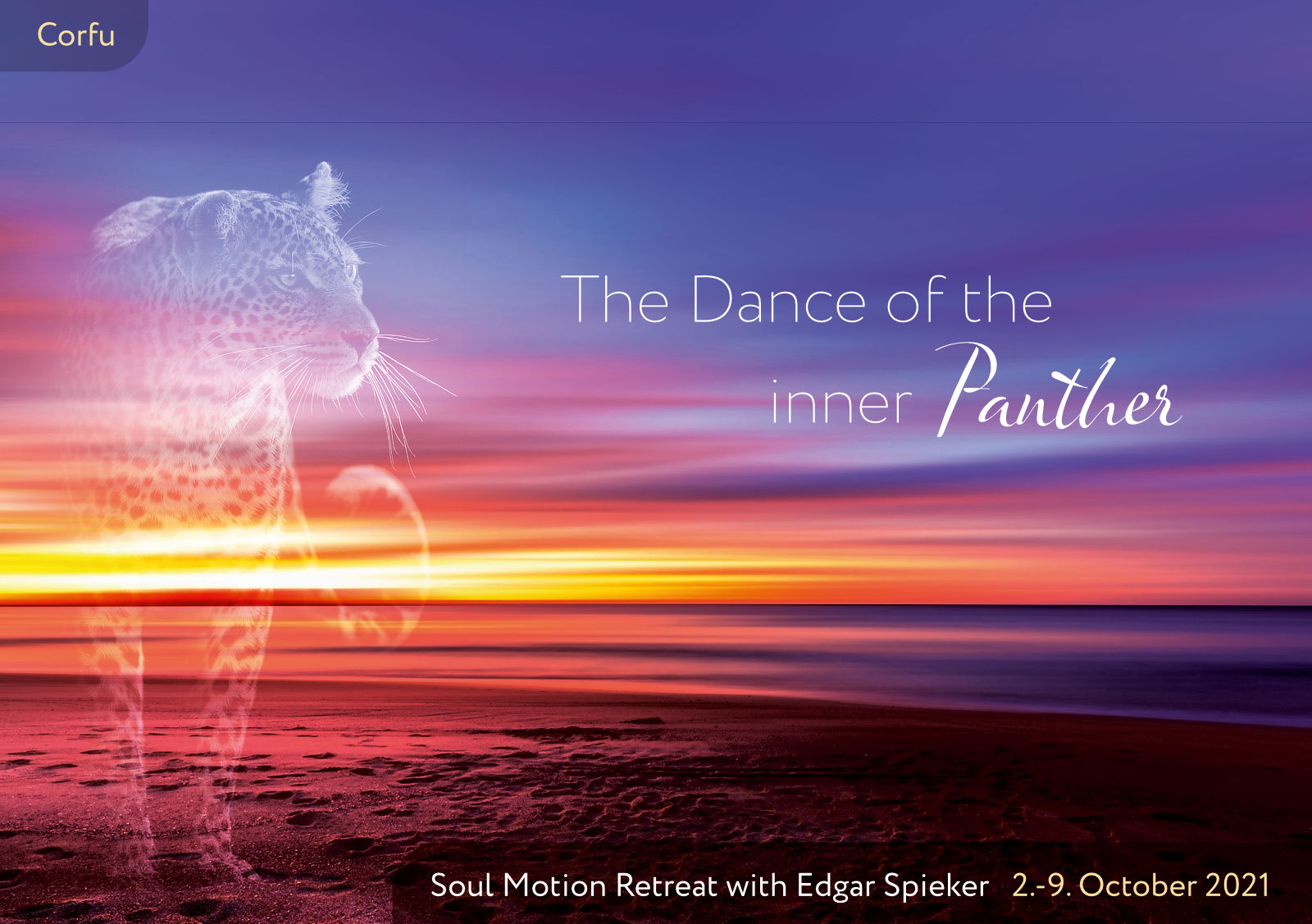 The Dance of the inner Panther
2.-9. October 2021
Arillas / Magoulades Arillas (Korfu), Griechenland
Soul Motion Workshop with Edgar Spieker
Big cats (latin: Panthera) are an impressive and stunning example of a perfect blend of the polarities of yin and yang. Their movements are smooth, soft and flowing. They are devoted in their play, and when it comes down to it, they are masters of strength, speed and determination. They have a strong natural presence, both in motion and in silence.

The panther will be one of our inspirations during this Soul Motion week. Together we practice through the dance to become more present and relaxed with life in whatever way it shows up, in us and around us. We allow tenderness and boldness, depth and lightness, tears of happiness and sadness. All parts of us are welcome and they all have a place in our dance.

We are fortunate to be able to practice this in a very special environment: a stunning dance space on a wonderful island in the warm Mediterranean Sea. Join us for one heavenly week of dance, meditation, reconnecting to ourself and getting inspired by others. There will also be time reserved for relaxation at the beach or activities like hiking or sightseeing Corfu's ancient villages.

Our dance space is the "Buddha Hall", a beautiful studio with wooden floor and stunning vista over the mountains of the island. It is located just a few minutes from the beach village Arillas. Most participants will stay in the small and comfortable hotel "Bardis". The hotel is located almost directly at the beach and it is reserved exclusively for us.

This week is open to everybody, whether you are an experienced Soul Motion dancer or completely new to this dance meditation practice.
Fee: 380 €. (Workshop Fee). Plus costs for accommodation and some meals (see below): 479 € Included in the fee for accommodation are 7 nights in double rooms. There are also a few single bedrooms available (surcharge 76 €). Meals included: 7 breakfasts, 5 lunches and 2 dinners. There are several taverns available that offer delicious and inexpensive meals for the rest of the days. Included is also the shuttle bus between the hotel and the dance space (10 Min.). Not included are costs for the flight to Corfu and transfer from the airport to the village (on request).
---
Workshop Registration
In order to register for this workshop please contact:

Annett Kynast
Winterhuder Weg 79
22085 Hamburg
040/98245184
0173/2892865
Email: schmidt@formentera.de