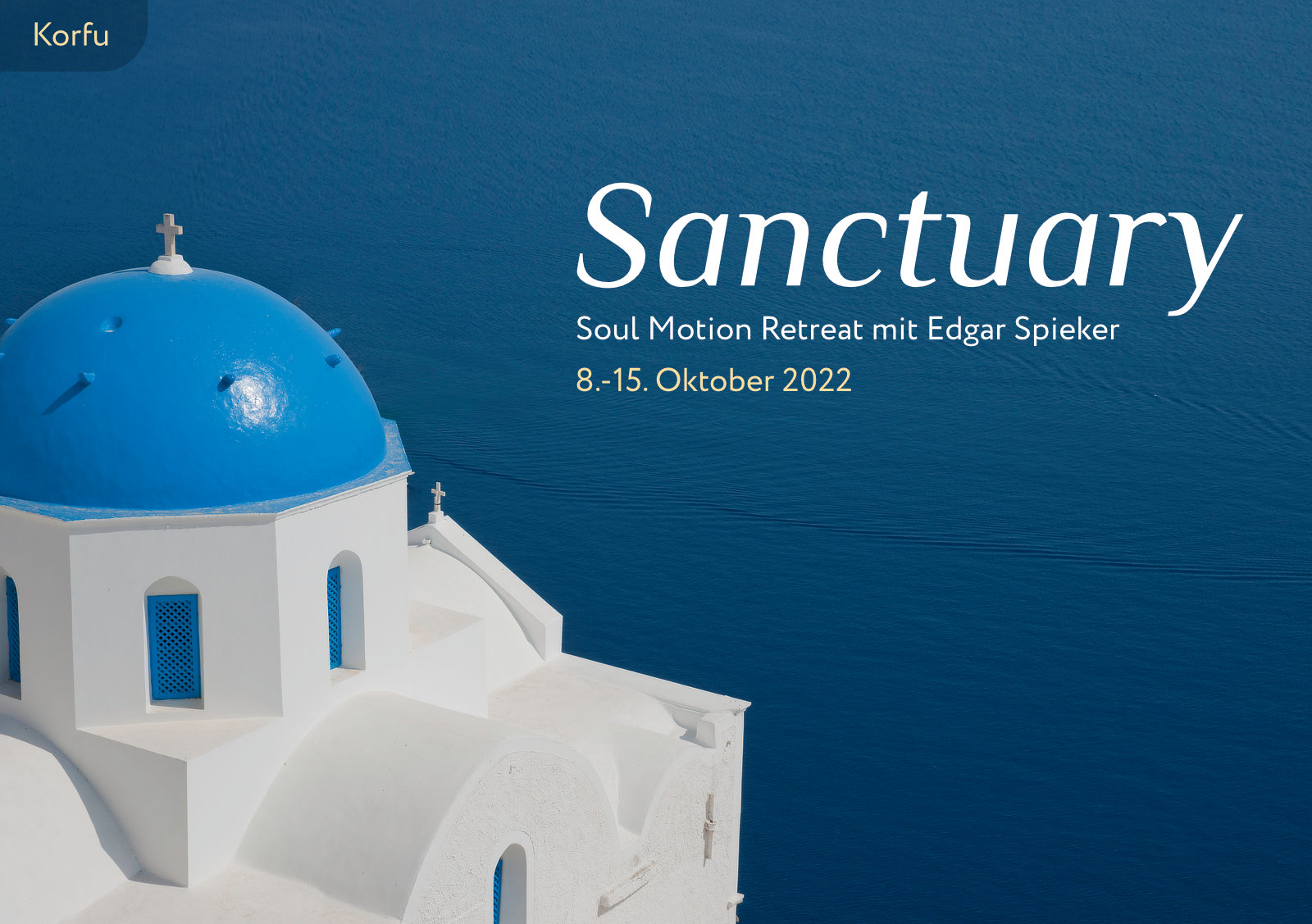 Sanctuary - Corfu Retreat
8. - 15. October 2022
Buddha Hall Corfu, Arillas, Magoulades, GR
Soul Motion Workshop with Edgar Spieker
There are places that help us to remind ourselves of our wholeness. Sometimes we call them "holy places". It is not without reason that the word "holy" comes from "whole", "complete".

In such places, we often take off our shoes, a symbol of respect and courage to be vulnerable for who we are as human beings. Often something special happens there, we feel more connected to ourselves and to life itself. We see more clearly what is really important to us. The feeling of incompleteness disappears.

These holy places can be anywhere. For some of us, taking off your shoes on the beach is like stepping into a special space. For others, the dance room is a place where something miraculous happens. All these experiences can lead us to the realization that ultimately every place our feet touch is a sacred place, a place where we can feel "whole".

Join us on the wonderful island of Corfu exploring holy spaces. The first and most important is our internal space, our body and its sensations and impulses. This is a space we will return to over and over again. When we open our eyes we recognize that we are not alone but united in this experience. When we lift our gaze we see the wonderful warm Mediterranean Sea right in front of us. We dance in a space which many experience as a "holy" place as soon as they enter: the Buddha Hall in Arillas/Magoulades.

More Information:

Our dance space is the "Buddha Hall", a beautiful studio with wooden floor and stunning vista over the mountains of the island. It is located just a few minutes from the beach village Arillas. Most participants will stay in the small and comfortable hotel "Bardis". The hotel is located almost directly at the beach and it is reserved exclusively for us.

This week is open to everybody, whether you are an experienced Soul Motion dancer or completely new to this dance meditation practice.

Schedule:
Saturday evening: Welcome Dinner
Soul Motion Sessions: Sunday-Friday 10.00-12.00 h and 20.00-21.30/22.00 h. The afternoons are free. Wednesday is reserved as a day off for optional excursions. That day we will only meet in the evening for a dinner and a Soul Motion session from 20-22h.

For registration, travel booking and also individual arrival and departure dates, please contact Annett Kynast (see below).
Costs:

Standard Fee: 450 €
Reduced Fee: 410 €
Supporter Fee: 490 €

Note on the pricing structure:

The regular fee is the regular fee for the workshop.
The reduced fee is for dancers that cannot afford the standard rate
The supporter fee is intended for people with greater financial means. By paying a higher rate they support in this way participants with a small budget so that they can pay the reduced rate.

Plus costs for accommodation and some meals (see below): 489 € Included in the fee for accommodation are 7 nights in double rooms. There are also a few single bedrooms available (surcharge 76 €). Meals included: 5 breakfasts, 5 lunches and 2 dinners. There are several taverns available that offer delicious and inexpensive meals for the rest of the days. Included is also the shuttle bus between the hotel and the dance space (10 Min.). Not included are costs for the flight to Corfu and transfer from the airport to the village (on request).
---
Register to the workshop
In order to register for this workshop please contact:

Annett Kynast
Winterhuder Weg 79
22085 Hamburg
Tel. 040/98245184
Mobil. 0173/2892865
Email: schmidt@formentera.de