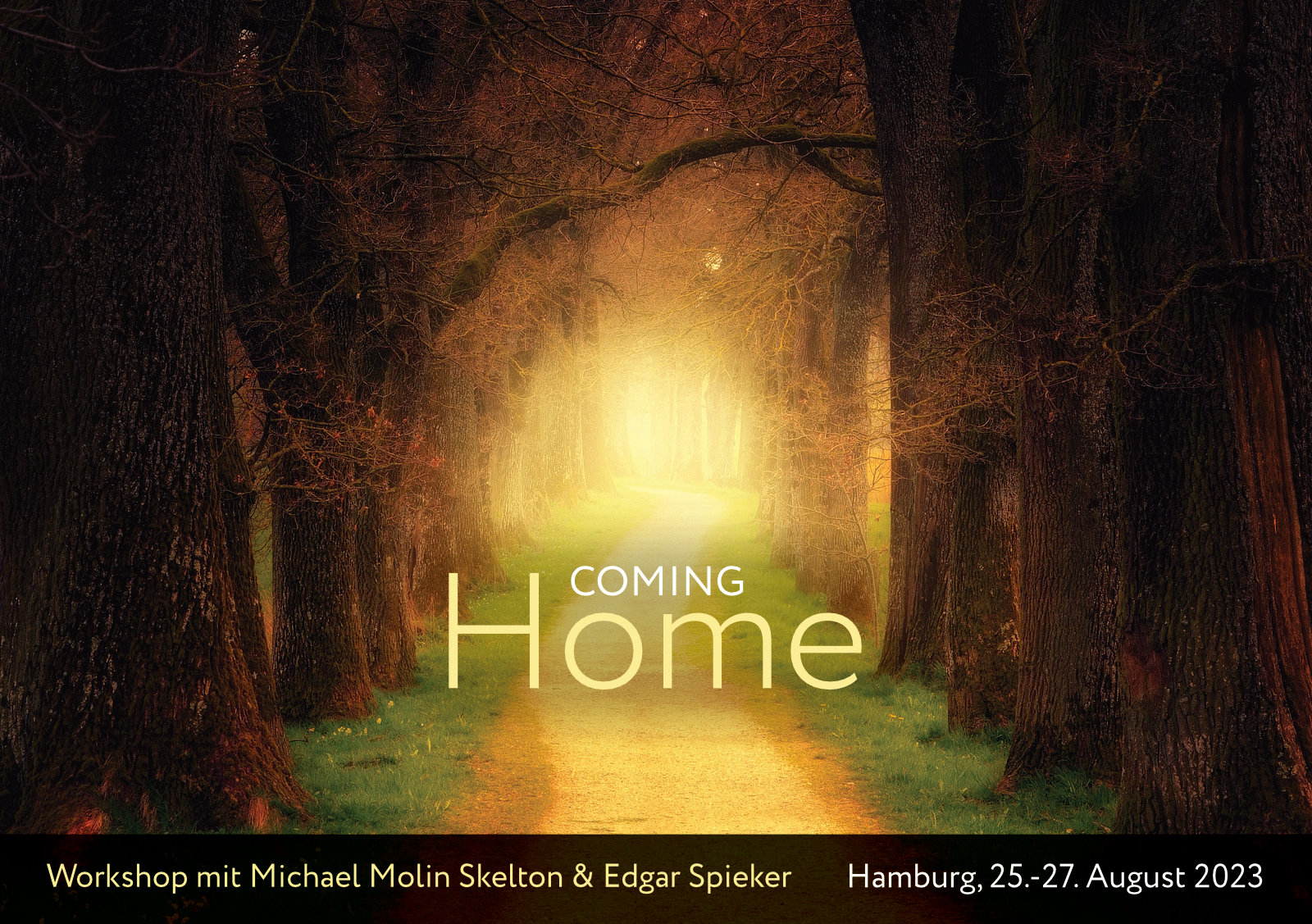 Coming Home
25. - 27. August 2023 Fr. 20:30-22:00, Sa. 11-17 h, Su. 10-16 h
Kyodo Dojo, Mendelssohnstr. 15, 22761 Hamburg, Deutschland
Soul Motion Workshop with Michael Molin-Skelton & Edgar Spieker
it was when i stopped searching for home within others
and lifted the foundations of home within myself
that i found there were no roots more intimate
than those between a mind, body and soul
that have decided to be whole
- Rupi Kaur


What if HOME was not a destination or a place, but rather a quality of being and a presence to the vitality living in each moment. To be at HOME in the intimacy and solitude of being alone is to openly receive and release the simplicity of each breath, to honor our wounds and celebrate our gifts. To be at HOME in the connection and communion with another is to be rooted in our own beating heart, while risking to share our heart with another. To be at HOME in the community and belonging of others is to be willing to take a stand and claim our place, while at the same time making space for the diversity and beauty of others. To be at HOME in the infinite mystery of spirit is to surrender to the teachings of faith, trust, curiosity and wonder to guide us in our every day dance of life.

In this workshop, using the platforms and landscapes of Soul Motion we will seek comfort and solace in returning again and again to our own bodies, breath, hearts and rhythms. We will risk moving out to our growing edge while being grounded with our heels firmly rooted in each step and our hearts openly reaching toward the next horizon. Through movement and pause, silence and sound, witnessing and being seen, we will dance our dreams and sing through our souls. The journey has begun, the long walk of COMING HOME.

Michael writes:

here are a few things that I hold sacred:
the love of my life – anneli
the miracle of that love – jaylan
integrity
justice, diversity
friends that cherish and challenge me
resilience
hugs (even more now than ever)
what i put in my body
trust, hope
connection
choice, permission
dancing alone, dancing with you
truth (it's complicated)
transparency
love.
Workshop fee:

Standard Fee: 290 €
Reduced Fee: 260 €
Supporter Fee: 320 €

Note on the pricing structure:

The regular fee is the regular fee for the workshop.
The reduced fee is for dancers that cannot afford the standard rate
The supporter fee is intended for people with greater financial means. By paying a higher rate they support in this way participants with a small budget so that they can pay the reduced rate.
---
Register to the workshop